You've painted the walls in your bathroom, added decorative accents to the kitchen, put up new drapes and placed eye-catching antiques in the living room. You've even changed the furniture around in the bedrooms – all in an effort to try and create the right motif for your home that makes it come alive. In essence, this is what interior design encompasses.
For the average person, creating the perfect design for your home is an ambitious and even daunting task.
And because you might not have a defined décor style for your home, what looks good in a store might not fit with the hodgepodge of styles throughout your home. You need to know your own personal signature design style that brings all the pieces together – your furniture, accents, window treatments, fabric choices, color palettes, lighting, and fixture options.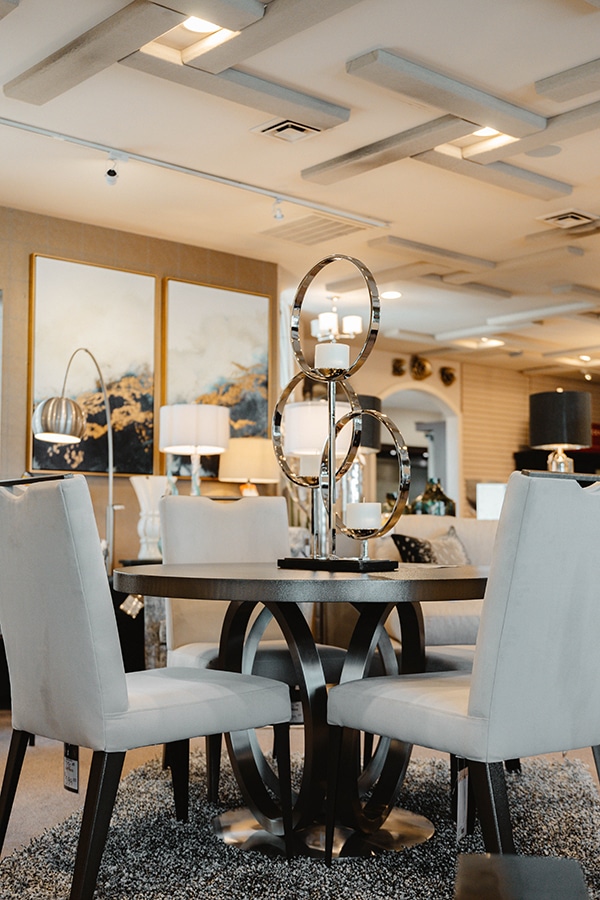 At Spencer Carlson, we believe that everyone deserves to have amazing living spaces that bring them comfort and enjoyment. Your space not only should look incredible, but it should also represent your personality and style while functioning in a way that works with how you live your life.
This is where an interior designer can come in and enliven your spaces by helping you define your personal style and selecting the right elements and materials that culminate in beautiful and cohesive room designs. Designers are skilled at harnessing what you have in mind and bringing it to life in exquisite detail so your living spaces resonate with charm and elegance.
Advantages of Hiring an Interior Designer
Designers Bring Fresh Perspective and Innovative Ideas
"A designer will not only bring their expertise and knowledge to a project but also fresh eyes," says Decorating Den Interiors
Premier designers have the talent to determine the full potential of a space and know how to maximize the right elements so your style shines. They also offer creative solutions to challenges that certain spaces may present.
Professional designers have the know-how to bring in items – whether they be funky furniture, a vintage table, unique decorative pieces – and bring them together in ways that enhance your personal motif in a room. A designer has an innate sense of how various obscure elements can work together to create an attractive décor theme for a particular room that you might not have thought of or considered.
Designers Can Help with Budgeting and Planning
A professional designer can assist you with staying within budget and save you a lot of time and effort. When you hire a designer or interior decorator, you have the services of someone who knows exactly where to find the perfect elements and materials to accentuate your personal style in all your living spaces.
Instead of you spending large amounts of time browsing stores with no clear direction or notion of what you're looking for, designers are extremely efficient and effective at creating and executing a workable plan to access what they need to fulfill your design dreams.
Designers have the resources and contacts they can mine to pull together diverse and eclectic items that bring a positive influence to the aesthetic of your home.
Designers Save You Money
Designers can help you avoid costly mistakes when it comes to purchasing items that don't work or blend with your décor. Think of all the money you'll save by no longer buying that chair, sofa, or lamp that looked great in the store but clashed with your home décor.
Your designer knows exactly how to develop your personal aesthetic for your home and find the right furniture, accents, lighting fixtures, etc. to carry that out.
What's more, you'll have potential extra cash from the sale of your home if you hire a professional designer. When you go to sell your home, interior design is critical when listing your property. The right interior design can increase buyer appeal and put your home above the competition, making it possible to sell your home for a higher price.
More Lucrative Home Sales
An interior decorator can potentially add a substantial amount of aesthetic appeal to your home. This can translate into an increase in showings and sales. The added allure of your home could hasten the time it takes to sell your property and fetch a higher price than a buyer is willing to pay.
Thanks to your designer, you gain the twin benefits of faster turn-around time and more money in your pocket from the higher home sale price.
You Will Have a Wow Factor
Interior designers are trained to be creative and think spatially as they learn how to see the overall picture in an interior space that clients typically cannot. Your professional designer has a good design sense and the ability to apply an attention to detail that focuses on such aspects as proper lighting and furniture placement to fabric choices and color palette.
Your interior designer will create rooms that visually pop and punctuate your personal décor theme. Their innate creative flair brings another dimension to your planned design that is sure to capture the attention of your house guests.
Designers Will Ensure your Beautiful Space is Functional
As part of the design process, your interior decorator makes a point of getting to know their client. At the outset of a designer-client relationship, the designer becomes familiar with the design desires of their client, including their preferred styles, palettes, and their objectives for the interior design project.
Among the type of additional information, the designer will solicit from the client is frequency of use in a living space, possible changes in the family structure, and a client's favorite patterns or colors. This information is gathered in an effort to make sure that a space will meet the needs and taste of a client for many years to come.
Spencer Carlson – Helping You Design Your Dream
From furniture to window treatments, artwork, and accessories, Spencer Carlson Furniture & Design is the only place in the Tri-Cities area where top-quality products are combined with passion and designer knowledge to transform your home into a stylish, customized environment!
Our designers will work with you to develop a new direction for your home or room design. We work with you throughout the entire design process, from conceptual design to implementation.
With over 50 years of combined experience, we can make your home one of a kind.
We invite you to schedule an interior design consultation with Spencer Carlson today!