Warm Up Your Space with Accent Lighting
Selecting the right lighting for each room and area of your home should be a thoughtful, creative exercise that results in providing the perfect illumination throughout your house. Each space in your home should have sufficient light, while also allowing for a stylistic lamp to potentially enhance the artistic theme of a room. 
When it comes to table lamps, consider lighting fixtures that are placed on coffee tables, end tables, or bedside tables. These types of lamps are designed to give you accent lighting when you lounge on your sofa, or task lighting when you read in bed. 
These table lamps are also perfect for creating a decorative style. The table lamp can be an essential part of a room's décor. The color and texture could blend with other elements in the room. 
You can choose table lamps that complement the other lighting and furnishings in your home. For example, you could opt for clean and contemporary lines of table lamps or decide on more traditional offerings of table lamps. At Spencer Carlson, we have many different types and styles of table lamps to choose from that will bring out the beauty of your home. 
It is important when choosing a table lamp for any room that it enhances the room through its form and function.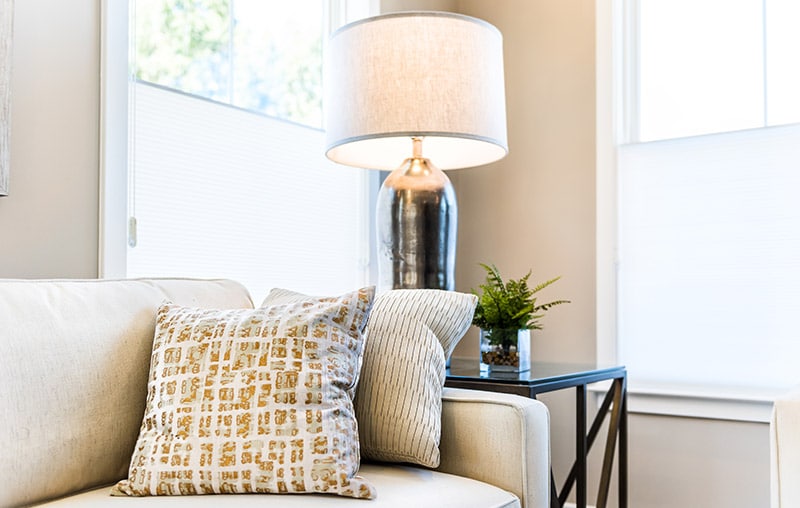 When you choose floor lamps, similar to table lamps, they can be both functional and decorative. Because they are larger lamps, these floor lamps can serve as bold pieces within a room. If you have a tall lamp that surpasses your vertical furniture line in a particular room, the lamp will be the first thing people will notice when they enter the room. 
Floor lamps are usually dominant in any room they are in, particularly smaller rooms. They are bound to attract the eye to that part of the room. This is especially the case if the floor lamp is an intriguing color. 
At Spencer Carlson, we carry the best-in-market table and floor lamps. Let our highly skilled interior decorators help you choose the best lighting solution for all rooms and areas in your home!
Illuminate Your Space with Lighting
Lighting is an important element in interior design and can determine how much a space will be used. Spencer Carlson Furniture & Design in Kennewick, WA can help you choose the best lighting solution for every room of your home so that you have sufficient light to complete everyday tasks and set the right mood. Our range of interior lighting choices includes hanging lamps, chandeliers, flush-mount ceiling lights, wall sconces, track lighting, recessed lighting, floor lamps, desk lamps, and table lamps.
Because interior lighting is mounted from a wall or ceiling it is often an afterthought when it comes to decorating. But without the proper lighting, a room can be dark and uninviting. The fact that it is a necessary part of a room does not mean it should only be functional, however. Instead, choose lighting that not only serves a purpose but also adds visual interest and appeal.
At Spencer Carlson, we carry the finest options from some of the best lighting companies around. Select a bead-draped candelabra-style chandelier from Livex Lighting or Crystorama as the crowning jewel of your traditional dining room. Or dine in your contemporary eat-in kitchen under a unique ceiling-mounted light fixture from George Kovac Lighting.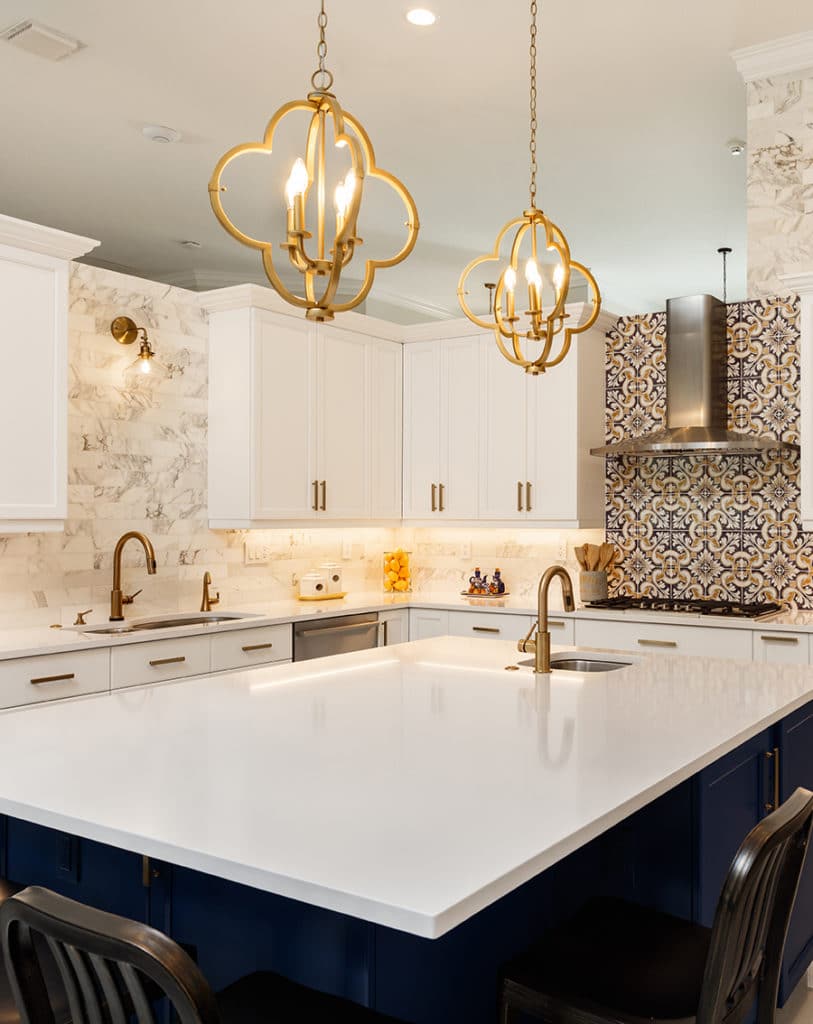 Brighten Any Space with Spencer Carlson
To brighten up a foyer or hallway with limited floor space, hang unobtrusive sconces on the walls. Wall-mounted task lighting is also perfect for a bed with no nightstand. Many of our fixtures are able to be dimmed, giving you the flexibility to change the amount of light they emit. This feature is perfect for rooms that are used for multiple purposes, such as a family room that also serves as a theater room.
We not only carry wall and ceiling-mounted lighting, but we also have an extensive selection of freestanding lamps. Floor lamps are perfect behind or next to couches or armchairs without end tables. Use a simple one to blend in with the surroundings, or use a more ornate one to stand out and make a statement. Desk lamps and table lamps provide task lighting for reading or working while adding to your décor.
Just like any other decorating project, selecting the right lighting for your home from hundreds of options can be daunting. The expert designers at Spencer Carlson can help you find the perfect lamp or fixture that will provide the desired amount of light and look beautiful while doing it, inside or outside your home.
Spencer Carlson Furniture & Design
Stop by today to take a look at the many options for any room in your home. Our showroom is conveniently located at 413 N. Kellogg Street in Kennewick, Washington, or we are happy to come to you for an in-home consultation. Please contact us if you would like to request an appointment.
Proudly serving Kennewick, Pasco, Richland, West Richland, and surrounding areas with interior design services, furniture, upholstery, and custom window treatments, including blinds, shades, draperies, curtains, plantation shutters & more.