Picking the Perfect Accent Chair for your Home
When it comes to the interior design of your home, cohesion is one of the most important aspects that should influence how you create the décor for each room and space. While everything doesn't have to look identical, you want the various elements in a room to complement each other in ways that nothing appears out of place. Everything should blend together.
So, when it comes to selecting the perfect accent chair, it should complement or highlight the existing décor and motif of a room. More than an additional seat, an accent chair sets the mood for a space. For example, finding the perfect accent chair makes it possible to transform a dull, plain looking corner into a cozy, inviting reading nook.
Also called a "side" chair, accent chairs provide more seating, as well as create eye-catching focal points in a room. Rooms that are well-designed employ the use of accent chairs to draw the eye's attention and bring the viewer deeper into the space. Accent chairs are a great way to inject more personality, style reference, or color into a room.
Choosing the right accent chair can be a daunting undertaking, as chair options come in many different styles, colors, sizes, and fabric types. But you want to choose a chair that will fit in with a particular space, or otherwise it could create aesthetic dissonance and throw off an entire décor. Ultimately, you want an accent chair that complements your space, and is the right size and material to fit your interior design needs.
To help guide your decision process and narrow down the choices, we invite you to consider the following factors when selecting the perfect accent chair.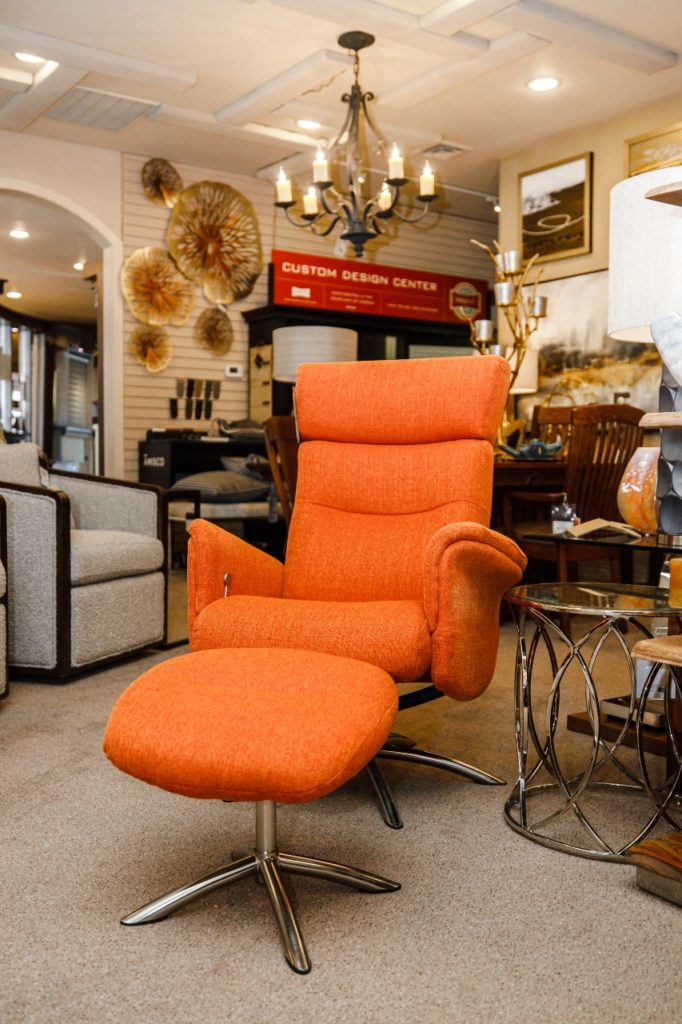 Factors to Consider When Choosing the Perfect Accent Chair
Purpose of the Accent Chair
The design and placement of an accent chair needs to be purposeful and intentional. This is the case whether it's a leather club chair in the study, a stunningly modern balloon chair in the recreation room, or a red, fabric armchair in the living room. The primary consideration when selecting an accent chair is to identify the reason that you need it in a specific living space.
Among the reasons you might want an accent chair is that you require more seating in the family room, or you would like to create a reading nook by adding a comfortable upholstered chair to give a space a comfy feel where you can snuggle up with your favorite book.
Figuring out the purpose will help you hone in on the perfect accent chair that will work with your existing décor. Maybe you want to use your accent chair to fit in with an upscale game or media room, in which case you could opt for a club chair, with its sturdy leather or faux leather material.
You could also bring in an accent chair in your study to inject some comfort into this space. In that instance, you might choose an elegant and decorative wingback chair. You could also try a barrel chair with its plush back cushions. If the purpose of the accent chair is to draw attention to a nearby piece of art, then the comfort factor is not relevant and you might instead select a more stylish accent chair.
Accent Chair Color Scheme
The color of a room may be the most important factor when selecting an accent chair. Perhaps you want to bring in a green chair to complement the pops of green in a guest bedroom. You could opt for a blue accent chair to draw forward the blue accent colors in a media or recreation room.
You should think about a room and determine if you would prefer a color of chair that blends into the existing color scheme. If you do, then choose a color that appears a lot in the room or a neutral shade. Maybe you would rather have an accent chair that stands out as a focal point. In that instance, you would settle on a color that appears less often in the room. If your goal is to go bold with an accent chair and have it really stand out with its color, then be sure that the color – or a similar shade – shows up at least in one to two other places in the living space.
If you want to play up the color red, how about adding in a cute red pouf and a late-century red lamp to emphasize this color theme. If you are partial to the color blue, you could bring in a blue throw rug to accentuate that color theme in your master bedroom, for example.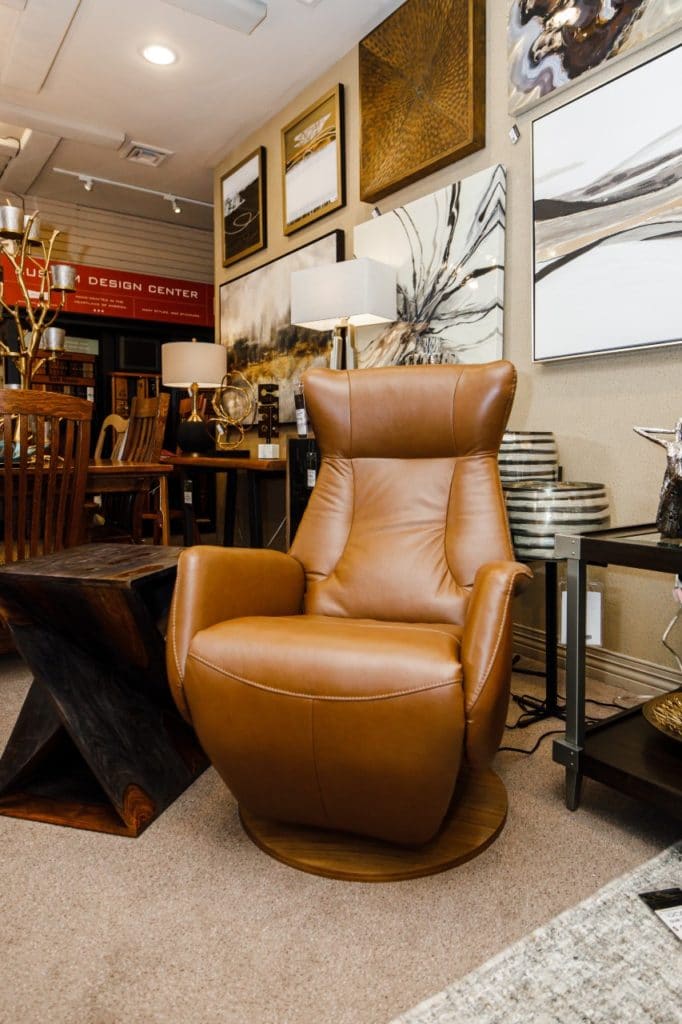 Matching your Accent Chair to the Style of the Room
The style of your room will be a significant consideration when deciding what type of accent chair to buy. For example, if you have a formal dining room, an art-deco styled polyester fabric lounge chair will appear way out of place. In another room, if you have a more relaxed décor, a balloon chair might be your best choice.
If you are unsure of the best chair style for a given room, you would do well to look through swatch kits. These kits enable you to sample many different kinds of fabrics to see what works well in your home.
It is worth noting that you will find accent chairs to be quite style specific. Usually, it is an easy task to coordinate an accent chair to your space based exclusively on style. But it can also be tricky. A chair may fit aesthetically in a room, but it does horribly from a functionality standpoint. If you want the best results, you should consider both aesthetics and functionality when selecting the appropriate accent chair style.
Of course, you can decide to mix and match styles of accent chairs. But be warned that some style types will not go well together.
Match or Not Match
There are many of us who are quite partial to matching when it comes to interior design. You might buy a sofa and select a chair that matches in color and style.
Decide for yourself if you really like the idea of matching pieces and elements in a room's décor, or if you are bored with too much of the same look in one space. You may prefer the pleasing variation that different shapes and textures gives you, leading you to appreciate nonmatching items in a room.
Size and Space of Your Room
When you shop for an accent chair, be sure you weigh as a significant factor the size of the room and the availability of space. Despite the best of intentions when it comes to having an accent chair be an attractive focal point, if it is too small or too big it is sure to draw negative attention.
It is helpful to remember that a small accent chair will provide real depth for a room. But be careful when placing this chair in a high traffic area of your home. You take a chance on someone tripping over the chair's legs or the legs of the person sitting on it.
One helpful suggestion is, if you have decided on an accent chair, measure the total square footage of its dimensions, and use painter's tape to outline that square onto the floor space for the room where it will be placed. You want the corners of the chair to be clear and fit as you anticipate it to.

Accent Chairs Enhance Aesthetics of Any Space
Choosing a striking accent chair is a simple way to add style and create an aesthetically appealing spot in any room. More than just additional seating, an accent chair can bring cohesiveness to a space.
Selecting the perfect accent chair is an easier task if you consider the aforementioned factors and trust your instincts with respect to what feels right in a particular living space.
Visit Furniture Showroom at Spencer Carlson Today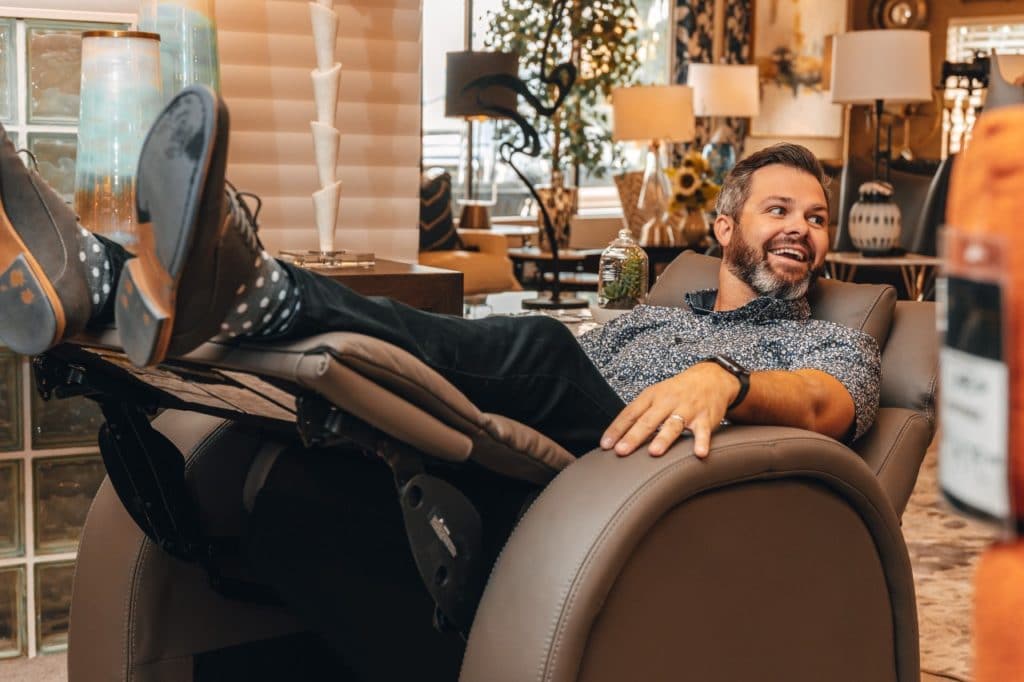 We invite you to visit our furniture showroom in Kennewick today to begin the fun process of selecting furniture for your home.
From furniture to window treatments, artwork, and accessories, Spencer Carlson Furniture & Design is the only place in the Tri-Cities area where top-quality products are combined with passion and designer knowledge to transform your home into a stylish, customized environment!
We have proudly served the Tri-Cities area since establishing our business in 1993. With over 50 years of combined experience, we can make your home one of a kind.
We encourage you to schedule a free interior design consultation with Spencer Carlson today!