We love our pets. We consider them family and often give them free rein of the house. Sometimes we may even treat our cats, dogs, and other pets like small children as we admonish them after accidents and encourage them when they obey our commands.
But there is no doubt about it, they can create messes, and big ones at that. Whether it's dog poop, shedding of hair, cat pee, or furballs, we need a practical cleaning regimen to keep our homes looking nice and presentable.
So, how do we maintain our beautiful home décor? What can we as pet owners do to keep our home interior appearing fresh, clean, and not sullied by pet messes?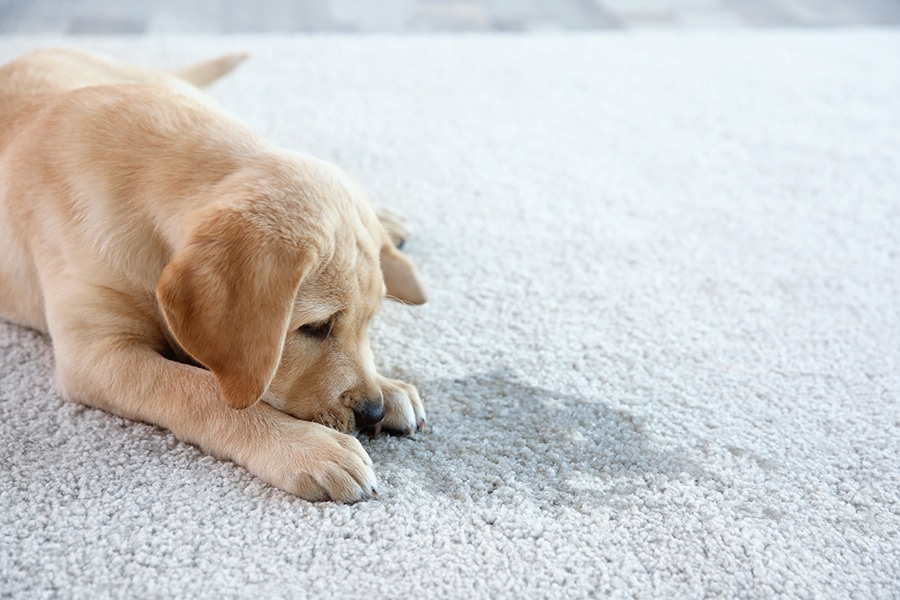 Keeping Your Home Clean Even with Pets
It is indeed possible to keep the pet dirt at bay by simply taking some preventative measures using household cleaning items that you probably already have in your home.
Let's start by examining what cleaning techniques we can implement for keeping your floors pet accident-proof – or close to it.
Vacuum Floors & Rugs
Make it a regular part of your cleaning routine to clean your hardwood floors, especially if you have a cat whose litter manages to track all throughout your house. Rugs are ideal to place on hardwood floors because they catch all the cat and dog hair.
Also, make sure you use a good quality vacuum cleaner that has a tangle-free brush roll. You want a vacuum that is capable of thoroughly picking up pet hair if you have pet shedders in your home. Your vacuum cleaner should have a power suction, work well on surfaces, and
not become clogged easily by excess hair. It is also particularly helpful when you have pets to have a good filter in your vacuum that is easy to empty. Your vacuum cleaner also has to reach obscure and tough-to-reach places, as pets can be sneaky and manage to find the most hidden places to leave messes.
Vacuum Sofas Pillows
Try using a handy small brush roll to capture all of the pet hairs and other debris dogs and cats can leave on your sofas and pillows. Sofas and pillows are among the most common items in the home that can collect pet residue.
Choose Low Profile Furniture
You will especially notice with kittens that they and other small animals will tend to hide under furniture. You will find evidence of them having been there when you see lots of fur, perhaps pet hair, and even messes if they are not yet poddy trained.
In addition to resting under sofas, pets also commonly hide under bed frames and anything else that has legs. That leads to considerable hair collection. Consequently, you might consider buying furniture that does not have legs or is low profile. By doing this, you will greatly minimize pet hair accumulation in your home.
Throws for Pet Hair
Consider putting throws on your sofas to capture most or even all of the pet hair. Then you can toss your throw blankets in the laundry. Throw blankets make it simple and easy to keep your couches and other areas of your home spotless, or at least much cleaner then they otherwise would be.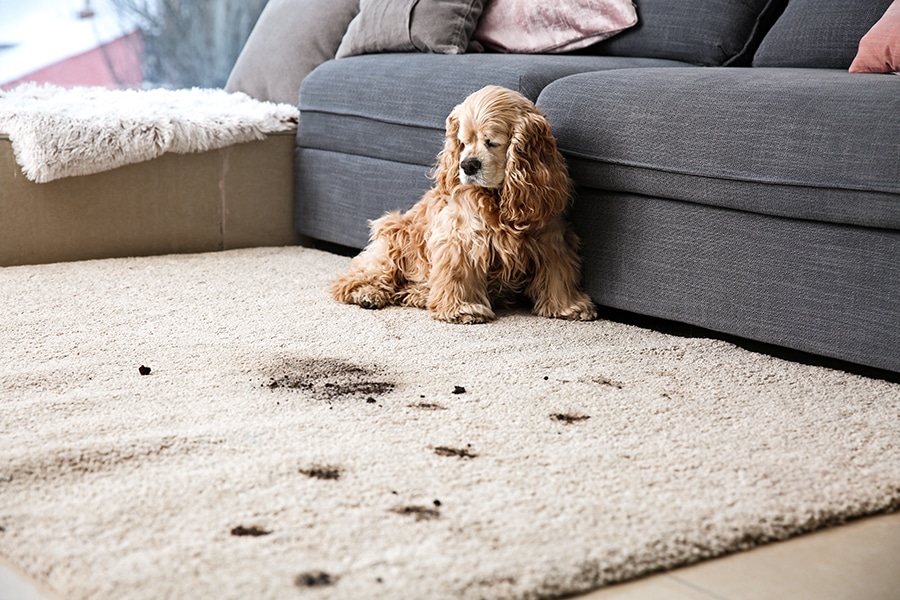 Make Good Use of Rugs
You can employ the use of rugs – with their many stylish looks and a variety of color schemes – to tactically place in certain areas of your home where your pets seem to congregate most often. For example, place a rug in front of each door, treating it like an indoor doormat. They are superb for catching dirt and water that your pet may bring into your home.
You might also want to put a rug under the sofa, dining room table, and anywhere else that your pets prefer to lounge. These indoor-outdoor rugs are versatile, and they don't allow anything to soak in. They also wipe clean with a damp rag.
Carpet tiles can also be handy for pet accidents. When your dog or cat has an accident that leaves an irreversible stain, you just have one square tile to replace rather than the entire rug.
Try Latex Gloves for Eliminating Pet Hair
Why bother with taking a lot of time capturing pet hair with a lint brush? It's much easier and more efficient to slip on latex gloves and rub your hands along your couch, chair, or recliner, and it is very effective. The fur sticks to the gloves. If you run your gloved hands underwater, the fur will come off right away.
Eliminating Urine Stains
Most people who have pets are acquainted with the occasional tribulations associated with toilet training your new puppy. In fact, accidents can occur with cats and other small animals, as well.
It is essential for the health of your home occupants to thoroughly clean pet urine or vomit stains immediately. In terms of hygiene, it is important to eliminate odors and remnants of urine, also to make it less likely your pet will return to the same spot to repeat the act.
Despite assuming that a quick cleaning takes care of eliminating all of the urine, you might be surprised to know that remnants of urine could still be in the spot you just cleaned. Often, the uric acid lingers. Consider using products that have enzymes that neutralize uric acid as they are very effective at eliminating all traces of pet urine. Vinegar is well suited to dissolving hard-to-remove urine buildup.
If you want to take it a step further, you could obtain an ultraviolet light that will highlight any pet accident messes.
Frequently Cleaning of Bedding & Pet Housing
It is prudent to regularly wash your dog's or cat's bedding. You also want to clean out the enclosures of birds and small animals. Incorporate these pet cleanings as part of your normal house cleaning routine. Keep in mind that dirty bedding and cages can produce foul-smelling odors in your home. They also can lead to the accumulation of germs and bacteria, which can cause disease or infection.
Make sure to clean your cat's litter box frequently and use quality litter to ensure you don't have bad smells forming in your house. Consider a hooded litter box that will contain stray litter and odors. Good quality and absorbent bedding material will greatly limit foul-smelling odors and give you the freedom of not having to clean your pet's bedding as often.
Enjoy Your Pets & Keep Your Home Interior Clean & Fresh
Fortunately, you don't have to decide between having a pet-free house to enjoy a pristine home décor or having pets and resigning yourself to living with messes and foul odors. Simply by implementing some basic cleaning measures that include vigilant cleanings of litter boxes, and bedding, using latex gloves to easily clean furniture, and employing the use of rugs and throws to minimize accidents on your good flooring and nice furniture, you can welcome pets into your life and maintain a beautiful home.
Spencer Carlson – Helping You Design Your Dream
From furniture to window treatments, artwork, and accessories, Spencer Carlson Furniture & Design is the only place in the Tri-Cities area where top-quality products are combined with passion and designer knowledge to transform your home into a stylish, customized environment!
Our designers will work with you to develop a new direction for your home or room design. We work with you throughout the entire design process, from conceptual design to implementation.
With over 50 years of combined experience, we can make your home one of a kind.
We invite you to schedule an interior design consultation with Spencer Carlson today!