Hiring The Right Interior Designers

Are you inspired to change the inside appearance of your home? Do you want a whole new look that includes different colors and furniture and new and bold accessories? You might very well be ready to hire an interior designer. But the question is, how do you go about hiring the right interior designer for your home?
Hiring the right interior designer is a very personal and important decision. When you think about it, their ideas and approach to interior design will have a huge influence on how your home will eventually look. You will have to live with the redesign of the inside of your home. You want to be happy and satisfied with the final product. 
In this post, we will offer advice and guidance for going about the process of hiring the right interior designer who will be suitable for your tastes and fits your lifestyle and design aesthetic. 
What is the Difference Between an Interior Decorator and an Interior Designer?
At first glance, you may think interior designers and interior decorators are the same thing. They sound similar. But actually there is a significant distinction between these two professionals. 
Interior Decorators
Interior Designers offer aesthetic assistance for completely constructed spaces. You will look to an interior decorator to make aesthetic changes that encompass wallpaper, paint, and furnishings. You can partner with them in selecting accessories and light fixtures.  
However, interior decorators do not have to possess a degree, certification, or formal training. That is because they are not involved in structural planning. Their emphasis is exclusively on space. Interior decorators have probably taken classes focusing on fabrics, colors, and so forth, but not to the same degree as an interior designer. 
Interior Designers
You will find that interior designers are able to provide decorating assistance as well as expertise in structural design. That is the key difference between these two professionals. Also, interior designers are involved in your home's architectural design phase, and during construction. 
Interior designers are very acquainted with working directly with your builder and your architect during the process of making design selections. 
The other advantage of an interior designer is that they apply creative and technical solutions to create functional, attractive spaces that coincide with your lifestyle. Interior designers also typically have much more schooling and certification than interior decorators. In addition to possessing a degree in interior design, they are likely to be credentialed by the American Society of Interior Designers (ASID), or have successfully passed a professional certification exam from the National Council for Interior Design Qualifications (NCIDQ). 
Tips on Hiring the Right Interior Designer
Identify Your Design Style
In setting out to hire the right interior designer for your home, you want to first identify your own design style and inspiration. You initially want to determine what you are looking for as far as a motif for various rooms, and the main overarching design style you are seeking for your home.
One helpful way to settle on your personal and unique design style is by collecting ideas and photographs of furnishings, accessories, colors, time periods and other relevant details. You might peruse magazines such as Southern Living, Architectural Digest, Better Homes and Gardens, and Style at Home. Also explore websites like Houzz and Pinterest. 
You could also peruse the portfolios of your builder and architect and inquire with them about interior designer referrals. 
Visit model homes or designer home shows in your community. If you find something that looks like what you want, ask for the name of the interior designer. 
Make Sure Your Design Style Matches the Prospective Interior Designer's Preferences
As you set out to hire the right interior designer, take the time to peruse the portfolios of your two or three finalists. Evaluate each of their portfolios online to make sure their design aesthetic matches with the themes of your inspiration photos, for example. 
It is important to ensure that your potential interior designer has aesthetic tastes that align with your unique preferred style. This means you should have a firm grasp on what your personal style is and which colors and styles you are drawn to. 
You should expect that your potential interior designer listens closely to your desired outcome for the design project. You want this design professional to fully understand the vision you have for the new interior design of your home. 
Also be open to the designer's suggestions and make an effort to understand why she thinks a certain color or material might work best for a room, for example. Keep in mind that an interior designer has the special ability to visualize specific colors, materials and products for certain rooms in your home.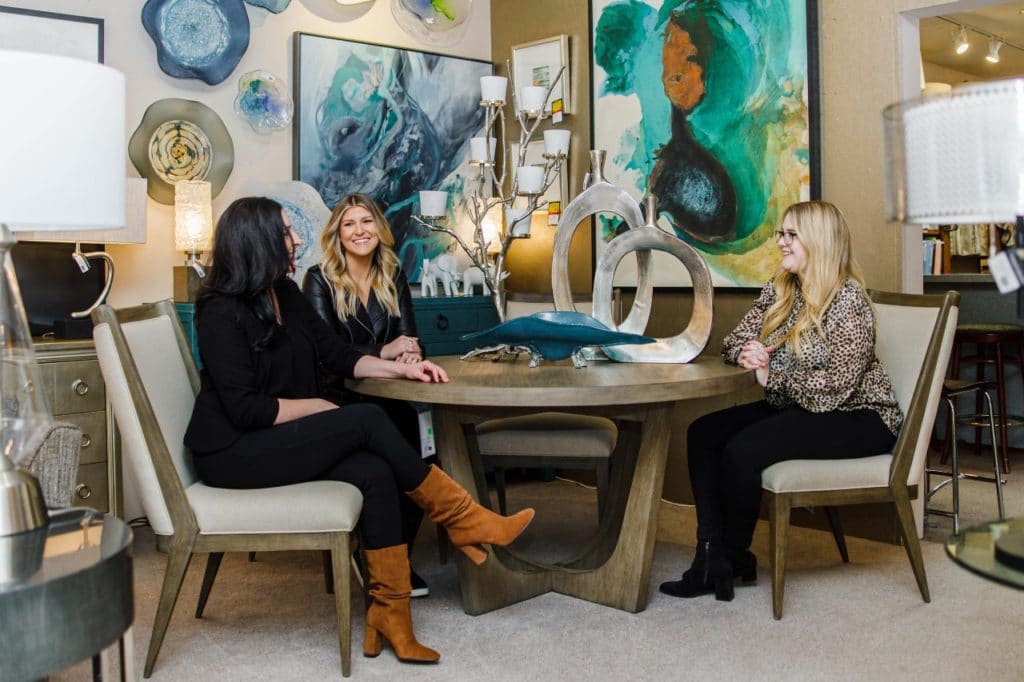 Interview a Prospective Interior Designer
Prior to committing to an interior designer, ask for a consultation or at minimum, have an interview with her. This time with the interior designer will pay dividends in that you can find out their input and vision for your home's future appearance. 
Here are some recommended questions to pose to your interior designer during an interview:
How do you determine which projects are a good fit for your firm?
What specific design services do you offer? 
Who will be working on my project? (Certain firms opt for a team approach while others dedicate one team member to a project)
How much client involvement are you comfortable with?
How do you factor in a client's budget during the interior design project?
How do you normally communicate and partner with builders and architects?
Where do you get your inspiration and what design elements define your style?
How did you handle a mistake on a previous project?

At the conclusion of your interview, be sure to ask the interior designer for references. You will want to talk with a previous client, a current client, and past or current building partner.

Check Credentials of Interior Designers
You will discover that not all interior designers have degrees from an accredited institution. Some might not even possess a certificate. However, some states require interior designers to be licensed before they practice. 
You will want to follow up on references and review the designer's previous projects.  Also look for certifications. 
Be Firm with Your Expectations
One important approach for hiring the right interior designer is being clear about your expectations. For example, it is fine to permit your designer to choose the basics of the interior design project, but if you would like to have substantial influence on the design elements, convey that to your interior designer. 
Remember it is your home that you are drastically changing the appearance of, and you want to be completely satisfied and happy with the results. You have a lot of invested time and energy in making sure your interior design project matches your specific lifestyle. 
Spencer Carlson – Helping You Design Your Dream
From furniture to window treatments, artwork, and accessories, Spencer Carlson Furniture & Design is the only place in the Tri-Cities area where top-quality products are combined with passion and designer knowledge to transform your home into a stylish, customized environment!
Our designers will work with you to develop a new direction for your home or room design. We work with you throughout the entire design process, from conceptual design to implementation. 
We have proudly served the Tri-Cities area since establishing our business in 1993.  With over 50 years of combined experience, we can make your home one of a kind.
We invite you to schedule an interior design consultation with Spencer Carlson today!