When it comes to designing your child's bedroom, there are many ways to go depending on your kid's interests and personality, and how much creative flair you want to employ.
Some might opt for a vintage look. Other kids could prefer a novel design that represents their unique tastes. And others will embrace a design based on a popular cultural theme, often from a specific movie or a children's book.
When designing your kid's bedroom, you might find it useful to harness the endearing qualities of children such as imagination, creativity, and expression. You might veer in the direction of catering to the whimsicality that we admire in our children, but that can result in a short-lived theme that a child may soon grow tired of and want to change in a year or two.
So how do you set about designing your child's room so that it is timeless and resonates with their interests and desires? How can you create a bedroom theme – with its colors, patterns and accents – that will maintain its appeal as your child gets older?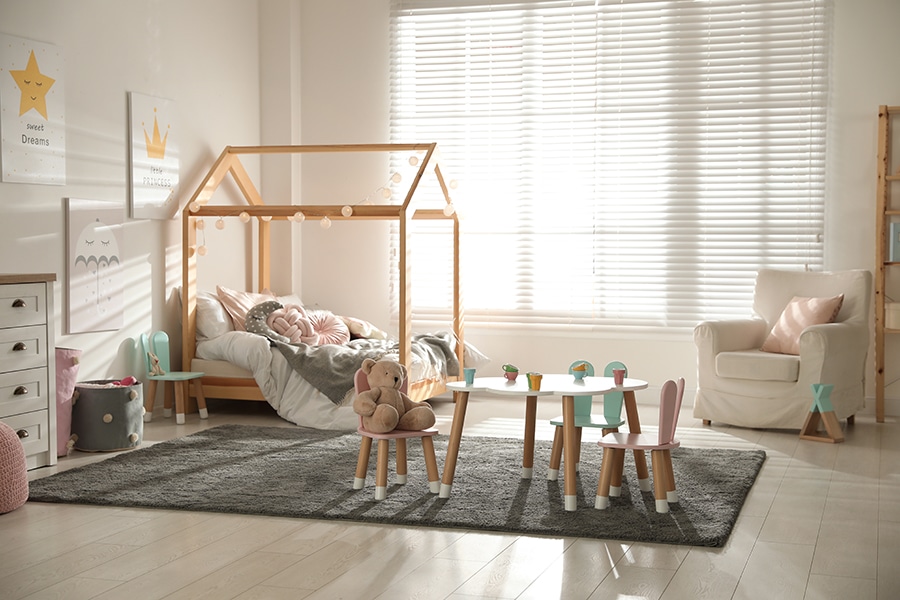 Ways to Design a Timeless Child's Bedroom
When you set out to design a kid's space, you will want to make design choices that reflect their personalities while giving them room to grow, whether they are four or 14.
Walls
Select a design scheme that is centered around a neutral color for the walls that can be a blank canvass to showcase decorative objects. Their walls need to also reflect the quickly evolving tastes of the child.
You might stick to just one wall or the ceiling if you want to introduce color and pattern. And if you do succumb to the desire to incorporate wallpaper, be sure the theme is mild enough so it does not dominate the entire room.
Furniture
When you choose furniture, make sure that only your child likes it, but you do, as well. Avoid obtaining a movie-themed sofa, for instance, that your child will become tired of in a couple of years. After your son or daughter no longer wants that sofa, you can incorporate it into another room in the home.
Every piece of furniture in the child's room should be universally appealing enough to be put into a grown-up room, allowing it to become timeless.
Lighting
Never underestimate the importance of lighting when designing a child's bedroom.
You should first consider the basic types of lighting when determining lighting in your kid's bedroom.
Ambient Lighting: ambient lighting creates an overall glow. This could come from overhead lighting like a ceiling-mounted or recessed fittings. This lighting will brighten the room evenly so a child can perform practical tasks.
Task Lighting: task lighting illuminates particular activities like homework or reading. You get ideal task lighting from sconces or lamps. Task lighting placed above or below beds helps to encourage reading.
Accent Lighting: This type of lighting highlights design elements of the bedroom. This could be a wall light in the shape of a moon to highlight a space design setting.
Lighting can be used to comfort children. For example, your child can fall asleep under fairy lights or from the gentle glow of a friendly animal lamp, offering reassurance to kids who are still afraid of the dark.
Art
Art is an ideal way to bring visual interest to a child's bedroom. It can also be a useful tool for identifying a color scheme. For example, pops of color can be mirrored in bed linen and soft furnishings, serving to unify the space in a subtle and harmonious way.
Bring in graphic or modernist prints to give the room a more sophisticated tone in bedrooms for older kids.
For younger kids, you could use artwork to represent a child's personality. That way the bedroom truly reflects the essence of your child. When you choose artwork, opt for more playful prints to maintain a youthful theme in the room. Florals, animals and other fun images will help the room feel unique and personal to your child.
Give Your Child Room to Grow
As we know all too well as parents, you can't keep your child young forever. Their tastes and preferences can change often as they get older. That is why when you design your child's room, don't choose elements that just cater to their current age. You'll find yourself frequently changing the style of their room as their tastes evolve and change.
Instead, invest in important pieces that are versatile enough to grow up with your child. This gives you a base to layer age-appropriate accents so you can avoid needing to redo the room at every stage of their development.
Also, start with a streamlined dresser, and a bed that can transition from one age to the next. Also consider versatile nightstands, and even lighting that will evolve with the space over time.
Add Symmetry to Keep Design Elements Cohesive
A symmetrical room makes it possible to avoid distraction and contrast, making the room easier to interpret and understand. When your eye understands a space better, it feels calm and quiet. When it comes to your child's bedroom, symmetry will likely be more sophisticated, and it gives it a sense that it is more pulled together. So a messy room feels less messy.
For example, you could have matching nightstands and matching lamps to bring symmetry to the child's room.
Spencer Carlson – Helping You Design Your Dream
From furniture to window treatments, artwork, and accessories, Spencer Carlson Furniture & Design is the only place in the Tri-Cities area where top-quality products are combined with passion and designer knowledge to transform your home into a stylish, customized environment!
Our designers will work with you to develop a new direction for your home or room design. We work with you throughout the entire design process, from conceptual design to implementation.
With over 50 years of combined experience, we can make your home one of a kind.
We invite you to schedule an interior design consultation with Spencer Carlson today!