Tips for Designing Your Entertainment Room
If you are planning for an entertainment room in your home, chances are you are dreaming of the ultimate entertainment experience that incorporates many modes of fun, leisure, relaxation, and entertainment that makes staying home an enticing option. Whether it's to entertain guests or simply to huddle together with family and watch movies or play games, an entertainment room offers great value to your home.
When it comes to designing a room for entertaining, there are many aspects to consider. Are you intending to have one or more motifs for this room? What form of entertainment will predominate or will this playroom offer various ways to entertain your family members and friends? Will it be a large room or a more cozy space?
You might opt for a game room or a home theater. Maybe you will convert your garage into an entertainment nook or you might utilize your basement as a more cavernous space for entertaining.
Keep in mind that your entertainment room should look chic and attractive but also be functional.
In this blog article, we offer practical suggestions and helpful tips that take into consideration various elements, aesthetic qualities, furniture arrangements, and design schemes to make this room the perfect space for home entertaining.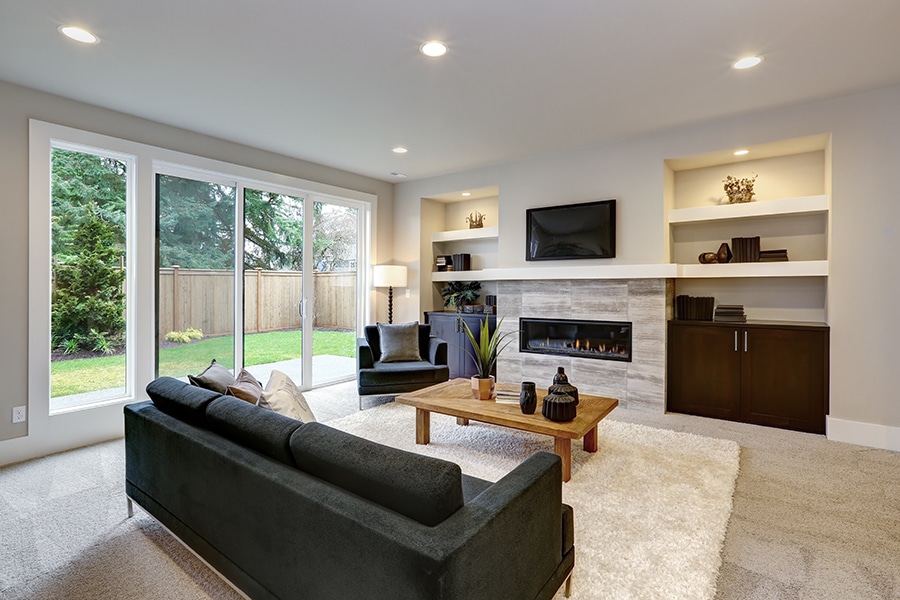 Know What You Want for Your Entertainment Room
As you launch into this new interior design project, you should first think about how you want to configure your entertainment area. Are you desiring a separate entertainment room or would you prefer to merge it with your living room? Many times, a living room offers the space and versatility to turn some of this area into an entertainment nook. All of this strategy will be based on the availability of space in your home.
Ultimately, you will want to create a unique space that makes everyone feel relaxed, embraced, and entertained.
Lead with Your Imagination
Picture what you want this special place to look like. Come up with an entertainment theme or even a vision for this special room. As you establish the motif for this entertainment area, consider how you want to decorate your space and what aesthetic elements you will want to include.
Perhaps you'll incorporate games, a billiard table, a big-screen TV. Don't limit your options. Let your imagination run wild.
Create a Multi-functional Space
What about creating a multi-functional space where you can watch movies, listen to music, and play games. You could make space for a pool table, a ping-pong table, or foosball.
Consider adding a game zone in one corner of the room, or plush seating or a bar counter in different sections of the entertainment room.
Create a reading nook by placing a bookshelf in your entertainment space. You can offer a variety of activities that suits many people's recreational preferences.
Be Strategic with Furniture for Your Entertainment Room
You want to design your entertainment area for supreme comfort. That is why the type of furniture you select is crucial. You first want to make sure you have plenty of seating for the maximum amount of people in your designated entertainment area.
Choose from sectionals, love seats, settees, especially if you are planning for a home theater. Remember, you want maximum comfort for any activities you plan for in this entertainment room. Select ultra-comfortable seating options by investing in a quality sofa set, recliners, or armchairs. Make sure you incorporate various seating options that cater to different preferences when it comes to relaxing.
You want this space to be inviting for you and your guests to lounge in. You will want to ensure that your furniture leaves plenty of space for walking around and moving. The types of entertainment you offer will dictate your seating arrangement. For example, if you opt for an all-in-one room with games and toys for the kids, this would require a larger space and more furnishings. If you decide on a small media room with a TV and games to play, you would need less furniture.
Wall Decors
Give your entertainment room distinction and a unique style with colorful wall decors. You could choose posters of movies, actors, sports figures, rock bands, or even include framed memorabilia to add some pizzazz to your walls, for example. Think about adding illuminated signs or eye-catching paintings.
You could also go for customized wallpapers that accentuate the theme for the entertainment room.
Acoustic System
You might set aside your entertainment room for playing music at loud decibels, in which case, be sure the walls, windows, and door are soundproof. You can utilize sound-absorbing materials such as thick curtains, carpets, as well as acoustic paneling on the walls.
Install acoustic sound-deadening drywalls, also known as zero-sound drywalls. This enables you to enjoy good sound quality in your entertainment room.
Handle Wires Carefully
With all the focus on the various forms of entertainment, you might overlook the importance of maintaining wires that connect your TV, stereo, and other electronic equipment in a safe manner. You want to keep all the wires arranged properly so nobody gets hurt and also so they don't turn into an eyesore.
In essence, you want to ensure that your wiring system is safely managed in order to avoid accidents. There is nothing that can ruin fun times more than faulty wirings or improper placement of wires.
Emphasize Fun and Functional with Your Entertainment Room
As you embark on this exciting interior design project, make sure you set out to create a stylish, customized environment that ideally suits the preferences of your family and guests when it comes to home entertainment. Ultimately, your special room should be a visually appealing and highly functional room.
Whether it's for holiday gatherings, birthday parties, or movie night, home entertaining is a priority for many of us. Once finished, your home entertainment room is bound to become the favorite hang-out space of your family and friends.
Spencer Carlson – Helping You Design Your Dream
From furniture to window treatments, artwork, and accessories, Spencer Carlson Furniture & Design is the only place in the Tri-Cities area where top-quality products are combined with passion and designer knowledge to transform your home into a stylish, customized environment!
Our designers will work with you to develop a new direction for your home or room design. We work with you throughout the entire design process, from conceptual design to implementation.
We have proudly served the Tri-Cities area since establishing our business in 1993. With over 50 years of combined experience, we can make your home one of a kind.
We invite you to schedule an interior design consultation with Spencer Carlson today!