When it comes to interior design, people usually focus on furniture arrangement, paint color, and flooring selection. From there, attention will shift to art and accessory placement.
But lighting can often be an afterthought. So much of the emphasis of designing your home falls onto what is in your line of vision. Your eye is naturally drawn to spatial elements when it comes to interior design. Sometimes we don't realize how much lighting can influence the mood or tone of a room.
Lighting plays an important role in home design. Slight changes in lighting schemes can make for dramatic effects in a space. Lighting can be used to transform a space with its design and placement.
For example; Make a change in lighting colors and arrangements, then you can make a living space a playful area, or a calm sanctuary, or a room for studying and reflecting.
This is why choosing the right lighting is an essential aspect of interior design.
Here, we will address ways that you can leverage custom lighting to create the perfect mood and atmosphere in rooms throughout your home.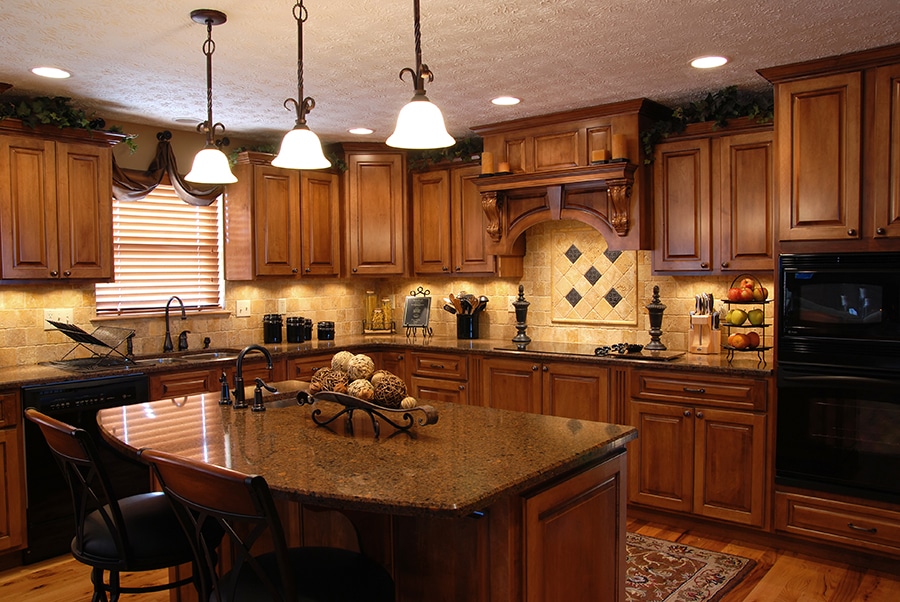 Ways Custom Home Lighting Can Add Your Own Personal Style to a Room
Spotlights in Your Bedroom
You want your bedroom to be a sanctuary for rest and relaxation. With the right use of custom lighting, you can set apart the bedroom in mood and atmosphere.
Consider the use of spotlights in your bedroom. If there is an area in your bedroom reserved
for studying and reading, then place a few spotlights in a line over your desk or table. The spotlights offer the right amount of lighting to allow you to read a book, work on your computer, or simply be alone with your thoughts.
If you need to inject more lighting into your bedroom, then combine these spotlights with a lamp as you install a stylistic light fixture over your bed.
Chandeliers in the Bathroom
Your bathroom should be a resting oasis. It also lends itself to creating a unique style of its own with the help of custom lighting. You might not immediately think of chandeliers in the bathroom, but consider this: chandeliers are an ideal way to instill a feel of elegance into a room that you never thought was possible.
Chandeliers can transform your bathroom into a relaxing spa-like retreat. You could hang a doubled chandelier above the tub or in the center of the room. Watch in amazement as this one piece of lighting can bring a distinct and appealing style to your bathroom.
Now instead of rushing in and out of the bathroom, you and your house guests can enjoy the elegant décor of what otherwise would have been just another plain-looking bathroom.
LED Lighting in the Living Room
LED lights offer versatility in that they can serve to warm or cool a room.
Use your imagination when selecting from a panoply of dazzling colors that can transform the atmosphere of the showcase room in your home. LED lights are bright enough to cast light throughout your entire living room. You have the option of choosing warm colors such as shades of yellow and red, that will bring warmth into your room, while colors like shades of green and blue inject coolness into the room.
Be creative with the use of LED lights in the living room as you strategically cast these brilliant colors in various areas of the room to create their own unique moods. The compact size and longevity of LED lights allow for a huge variety of light fixture types and designs. Whether its bright task lighting, or diffuse accent lighting, or even ambient mood lighting, LED fixtures are an excellent choice for your living room.
Pendants and Spotlights in the Kitchen
The kitchen is where everyone gathers for special moments tied to great food and sparkling
conversation. The kitchen has a unique role in the home, as it is the room where people congregate the most in your house. So don't relegate your kitchen to normalcy with ordinary lighting fixtures.
Rather, consider using pendants and spotlights in your kitchen to customize this space. Among the unique ideas you could try is hanging pendants above the kitchen island and countertops.
The beauty of pendant lights is that they will never go out of style. There is no limit to the different designs that you can create with pendant lights in the kitchen.
If you opt to have a row of pendants above the countertops, then you might try installing spotlights above other important areas like the stove and cabinets.
Custom Lighting for the Dining Room
Custom lighting brings its own versatility as you can make for a complex arrangement or create a simple feel to a room. For example, a pendant light with a simple shade can work perfectly with a dining room that features textured, slate blue walls and antiqued wooden finishing on the chairs, table, and shutters. These elements are unified perfectly with the pendant light for this rustic style dining room.
At night, after the sun no longer shines its rays into the dining room, the shaded pendant light casts an even glow across the walls. This could evoke scenes from old-fashioned countryside living.
You could also consider a pendant light or modern chandelier suspended above the dining table. This will instantly create a visually striking feature and provide potential conversation subject matter.
By utilizing these and other innovative custom lighting ideas, you'll add a statement style to your dining space and create a design talking point.
Custom Lighting Gives You Many Exciting Options for Creating Your Unique Style
Your home should be a reflection of you – your personality, values and lifestyle. And the use of custom lighting can serve to accentuate the mood and atmosphere of various rooms in your house in amazing and striking ways.
When you embark on an interior design project for your home, consider the important role that custom lighting can play in enhancing the signature style of your home design.
Spencer Carlson – Helping You Design Your Dream
From furniture to window treatments, artwork, and accessories, Spencer Carlson Furniture & Design is the only place in the Tri-Cities area where top-quality products are combined with passion and designer knowledge to transform your home into a stylish, customized environment!
Our designers will work with you to develop a new direction for your home or room design. We work with you throughout the entire design process, from conceptual design to implementation.
With over 50 years of combined experience, we can make your home one of a kind.
We invite you to schedule an interior design consultation with Spencer Carlson today!