It is no wonder that so many of us appreciate and might even be awed by art gallery walls. As popular as they are, gallery walls have grown significantly in popularity over the past several years. They offer a fun and easy way to update interiors, transform bland walls, create a focal point in your home, and inject character and personality into your living space.
Gallery walls provide everyone, from art novices to art connoisseurs, a means to showcase our personal collections in groups, with the opportunity to dazzle guests and friends at our homes. Gallery walls provide a perfect way to take up empty space on a large wall, making the room feel more enlivened.
What makes a stand-out gallery wall? It can be comprised of exclusive pictures – art or photos. You can go big with your gallery wall by starting with your favorite mediums, whether it be photographs, drawings, or art. You can add elements such as postcards from your favorite travel destinations, or even your grandmother's jewelry, or pieces from your favorite game. 
No matter how you go about it, your gallery wall still needs to be stylish.
Let's look at some ways you can get started on creating that iconic, dazzling gallery wall that will blow away everyone who sets their eyes upon your walls!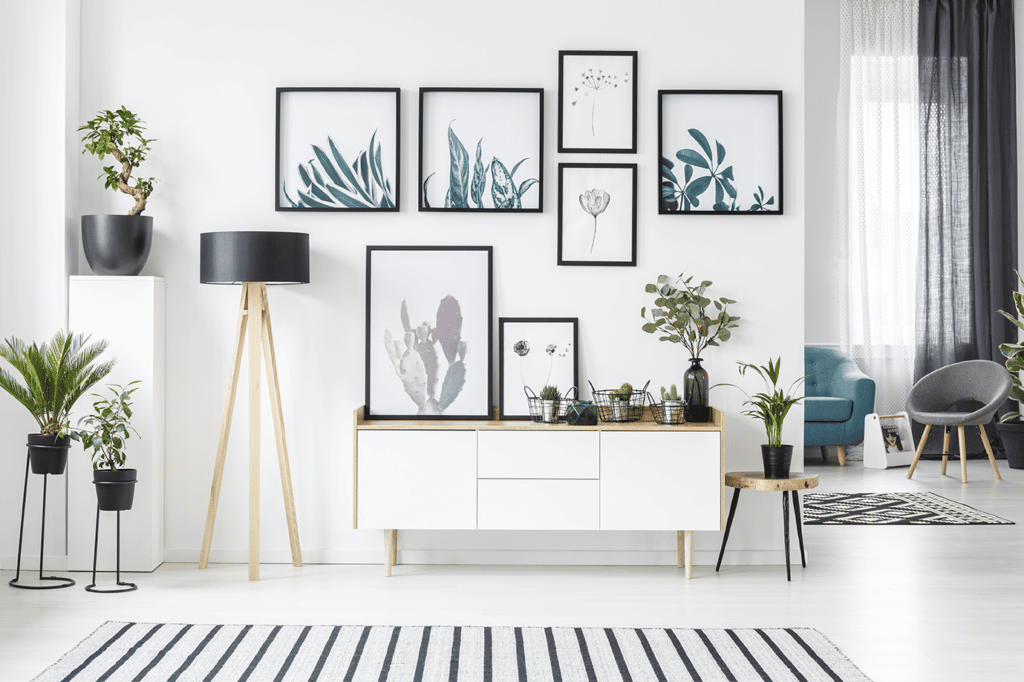 How to Get Started on Creating a Gallery Wall
Think in Terms of Theme
You want to begin by identifying a central concept or theme to your gallery wall. This will help determine which room or rooms to showcase your art.
One idea is to adhere to a neutral color palette and use a variety of objects that are designed to draw attention. Maybe an animal motif expressed with a pencil sketch of an elephant and a large metallic knocker. These two elements put together, with a small wooden piece, could represent a distinct outdoor theme.
Begin Collecting
Begin to collect items, artifacts, cards, handmade prints, original art, photographs. The more unusual or unique the better. As you are collecting, consider the scale of your collection and determine the arrangement you are wanting. For example, do you want them all the same size? Perhaps a mixture of different sizes? Always be on the lookout for inspiration anywhere, including favorite cafes, restaurants, parks, museums, etc. Maybe you've discovered a muse that kick-starts the creation of your gallery wall.
Be Creative
Consider a gallery wall that doesn't employ paintings or photographs. One idea is to use serving platters with mismatched vintage china. This ensemble creates a truly memorable gallery wall. You could consider having a gallery wall in the bathroom. Why? The bathroom is typically neglected when it comes to works of art of any type.
What it comes down to is endeavoring to be as creative as your mind and spirit will allow you to be. Think outside the box.
Be Liberal with Use of Color
You will find that color plays an integral role in almost all facets of design.  Color selection should be one of your first choices when it comes to creating a wall-based masterpiece, as color connects all of your artistic elements. An example:  using glaring, bold colors with unusual art pieces, maybe even using a mirror to add another unusual dimension to your gallery wall. Employ artistic elements that accentuate each other.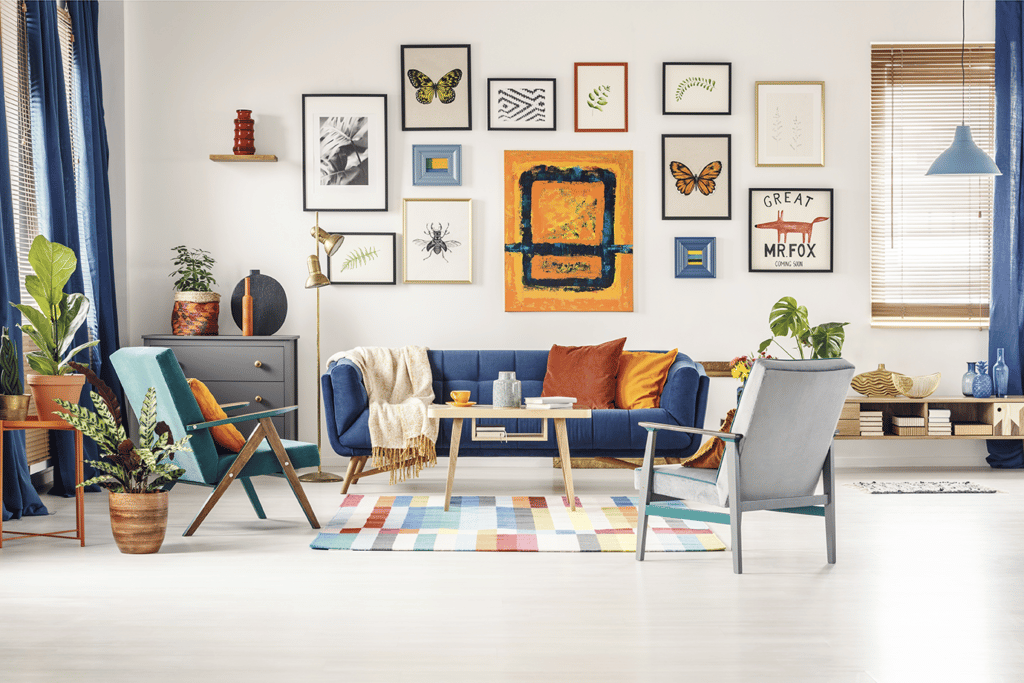 Select Your Frames
Once you are satisfied with the layout, decide on your frames. Figure out if you want your frames to blend in or contrast with the wall, or maybe to create attention themselves. Do you want your frames to be identical or do you want to really mix up the colors? For example, a white or neutral frame is ideal for Scandi-style interiors, while black or other dark-colored frames are more appropriate for contemporary or industrial themed interiors.
Add some flair to your adorned wall with the use of eclectic frames, creating as much of a stylistic presence with them as you can.
Choose Your Layout
Do you want to have your wall art comprised of clean rows or an organic arrangement? Decide after looking at your photographs if the framed pieces still work with your artistic theme. 
Spencer Carlson — Where Quality Meets the Needs & Details of Your Lifestyle
At Spencer Carlson Furniture & Design, we make it easy to design a space to look like it popped right out of a magazine. Our design staff is well versed in today's ever-changing style and they work diligently to create a space that is inspiring for you to find the perfect home décor!
Whether you are looking for a quick refresh or a complete home makeover, we love creating spaces that reflect our clients' unique personalities and lifestyles.
Schedule an interior design consultation today!