When it comes to window treatments in your home, they perform two main functions: functionality – controlling the amount of UV rays and sunlight that enters your home, and aesthetics – potentially enhancing the beauty of your home with an exquisite mix of form, style, and colors.
Many interior designers consider window treatments the jewelry of the home – the finishing touch without which no room in your home is complete. Despite this, in many instances, people tend to put the most focus on furnishings and wall color when it comes to decorating their homes. Window treatments can become an afterthought.
But window treatments are more important than you think. First off, they save you money. By covering spaces with direct access to the outdoors, window treatments block heat and cold from getting into your home. A minor draft can change the temperature inside your home and force your energy system to work harder than necessary, increasing your utility costs.
Also, window treatments provide privacy. Window treatments create a barrier between your personal space and the outside world. For example, when your curtains are drawn, unwanted onlookers can't see inside your home and survey the activity or detect the absence of people in the house.
Finally, window treatments elevate your home's décor. Depending on your selection, window treatments can be charming, elegant, and even theatrical.
Knowing how important window treatments are to your home, now you're left with deciding which window treatments are right for your personal taste, as well as complement the style and décor of your indoor living spaces.
That is why we are providing a comprehensive guide to window treatment options for 2021.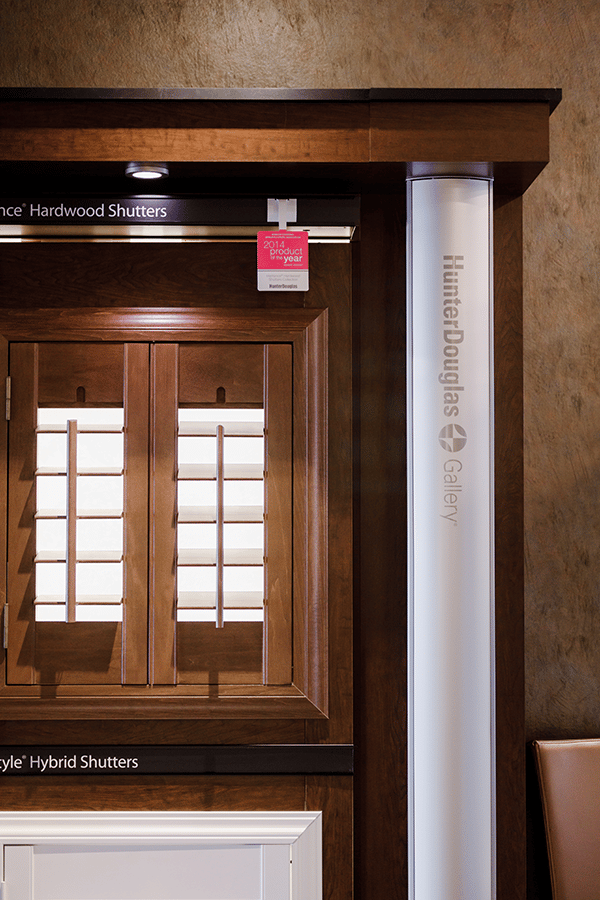 Window Treatment Options for 2021
There are almost endless options when it comes to the selection of window treatments that include full and flowing drapes, blinds, shades, valances, modern coverings, classic curtains, and much more. However, there are key factors to consider when choosing the window treatments for your home.
Tips for Selecting Your Window Treatments
A helpful way of choosing the perfect window treatment is thinking about how you want light filtered in each living space.
You might also find it useful to begin with choosing the product type first, such as Hunter Douglas blinds or Hunter Douglas shades, for example.
You also will want to know if the type of material is best suited for a particular application. For example, there are some drapes that would work well for the living room but would not be appropriate for your bedroom.
"Knowing how a fabric will drape, whether it will stretch out over time and how it is going to look with different types of light coming through are all important technical aspects that will affect how the window treatment will look once installed," says designer Alizee Brion.
Also when choosing a window treatment, make sure it is a custom fit for a specific living space in your home. In other words, consider all aspects including natural light coming into the living space, décor and size of the room, etc.

Become Familiar with These Window Treatment Terms
Roman Shades: Roman shades are preferred by people who appreciate their clean appearance, versatility, and premium quality style. For example, Hunter Douglas roman shades inject a contemporary, yet classic look to almost any living space. They are available in a wide variety of colors, fabrics, and designs.
Note: The Roman shade got its name from awnings at the Coliseum that could be spread above the seats, to protect spectators from the bright Mediterranean sun, according to blindsgalore.com.
Pleated Shades: Pleated window shades, also known as pleated blinds, are a simple design choice with a classic feel. No matter where you hang them, they'll shower you with soft, filtered light. Most pleated shade fabrics are very sheer.
Roller Shades: Roller shades are easy to incorporate into practically any room in your home, regardless of its color scheme or style. Roller shades are sleek enough to pair perfectly with other window treatments like curtains or drapes. These classic window coverings have remained popular for many years due to their timeless style and simplicity.
Honeycomb, or Cellular Shades: Cellular shades, commonly referred to as honeycomb shades because of their honeycomb design when viewed from the side, offer your home abundant insulation. The insulation helps with both sound and energy. Cellular shades are considered one of the best energy-saving window coverings.
Solar Shades: Solar shades are composed of a coated material that is finely and tightly woven to provide light and heat coverage. Solar shades are a superb window treatment option for windows in rooms that receive extensive sunlight. These types of shades are also known for reducing glare, and preventing fading from the sun on carpets, furniture, and household surfaces.
Blinds: Blinds feature adjustable horizontal slats that are raised or lowered, or tilted for precise control over the amount of natural light allowed into a room. Blinds are considered a "hard" window treatment and are typically made out of wood, vinyl, or metal.
Different Types of Window Treatments
Drapes
Drapes can inject into a room a great deal of softness and are ideal for any living space that has windows – minus radiators underneath. You'll need space on both sides of the trim for the hardware to extend and for the drapes to drop in front of the walls.
Custom rods are ideal for drapes. They are no seams for extension and they stay straight and strong. They are also available in a large variety of materials. We recommend that you purchase a size of drapes that requires the least amount of extension, being that rods bow at the seam when they are extended out far.
Roman Shades
Fabric roman shades are ideally suited for kids rooms, as well as kitchens, bathrooms, and other windows where there are radiators below. Roman shades are also well suited as a window covering where there are adjacent walls too close for drapery hardware to be installed.
You can select from many types of Hunter Douglas roman shades that include relaxed styles that tend to appear more elegant, and flat roman shades that are composed of a continuous piece of fabric and hang flat against the window. The flat roman shades are supported with durable bars to strengthen the shade.
Modern roman shades bring with them bold colors, allowing a room to be immediately upstyled with a vibrant effect.
Choose traditional roman shades for their quintessential functionality that exudes simplicity and casual elegance.
Roman shades are setting trends in window treatment fashion and they complement the most elegant or simplest décor. You can't go wrong with the classy appearance of roman shades for your window treatment.
To learn more on Roman Shades, visit the Hunter Douglas website for more information!
Valences
A valence is a shorter drapery panel that hangs at the top of a window. You install valences over the top of curtains on a curtain or draper rod. These types of window coverings add texture and depth to a room. Valences also add a softer accent to a living space.
The purpose of valences is steeped more in treatment than functionality. They are ideal for hanging over a kitchen window to add color and pattern. Valences are suited for adding height to a room and bringing a room together.
Valences are also a less expensive alternative to roman shades.
Wood Blinds
Wood blinds are perfect for adding some class and warmth to your home. Wood blinds offer a natural, organic feel to your home décor. They also provide excellent insulation and protect furniture and art from harsh sunlight. Because of their appearance and features, wood blinds continue to be a popular form of window treatment.
Creative Ways to Make the Most of Your Window Treatments
Sheer White Curtains
If your home is lacking windows, then take advantage of the beauty of sheer white curtains for maximum light. This window treatment also makes a room appear more inviting.
Dramatic Curtains
Create some drama with a window treatment that features moody red curtains, for example.
Add Romantic Look with Tie-Up Shades
Maybe your bathroom is accentuated in a way that offers the appearance of understated elegance. Opt for tie-up shades for your bathroom window treatment to add a romantic touch.
Full Floor-to-Ceiling Curtains
For your master bedroom, consider adorning the window with floor-to-ceiling curtains that contribute to the sense of fullness, warmth, and energy in the room. By choosing the right colors, these curtains could also inject more depth and dimension to your bedroom.
Add Roman Shades for a Refined Look to Your Room
If your home already has blinds, consider making it feel more personalized and refined with modestly colored Roman shades. These roman shades in your bedroom, for example, could add a splash of color to make for a more light-hearted appeal to your room décor while providing shade during peak sun-light hours.
Bright and Cheerful Curtains
If you have a dark room in your house, think about softening the style with pastel curtains. You can add cohesiveness to your décor by matching your curtains to a lamp and other accents. Your vibrant curtains could brighten up the muted colors of your walls, for example.
Take into account how a beautiful window treatment could enhance the beauty of your home and give you the practical benefit of shade and protection from the UV rays of the sun. We hope the ideas presented here will inspire you to have fun selecting the window treatments for your home that suit your needs and accentuate your personal style.
Spencer Carlson – Helping You Design Your Dream
From furniture to window treatments, artwork, and accessories, Spencer Carlson Furniture & Design is the only place in the Tri-Cities area where top-quality products are combined with passion and designer knowledge to transform your home into a stylish, customized environment!
Our designers will work with you to develop a new direction for your home or room design. We work with you throughout the entire design process, from conceptual design to implementation.
With over 50 years of combined experience, we can make your home one of a kind.
We invite you to schedule an interior design consultation with Spencer Carlson today!